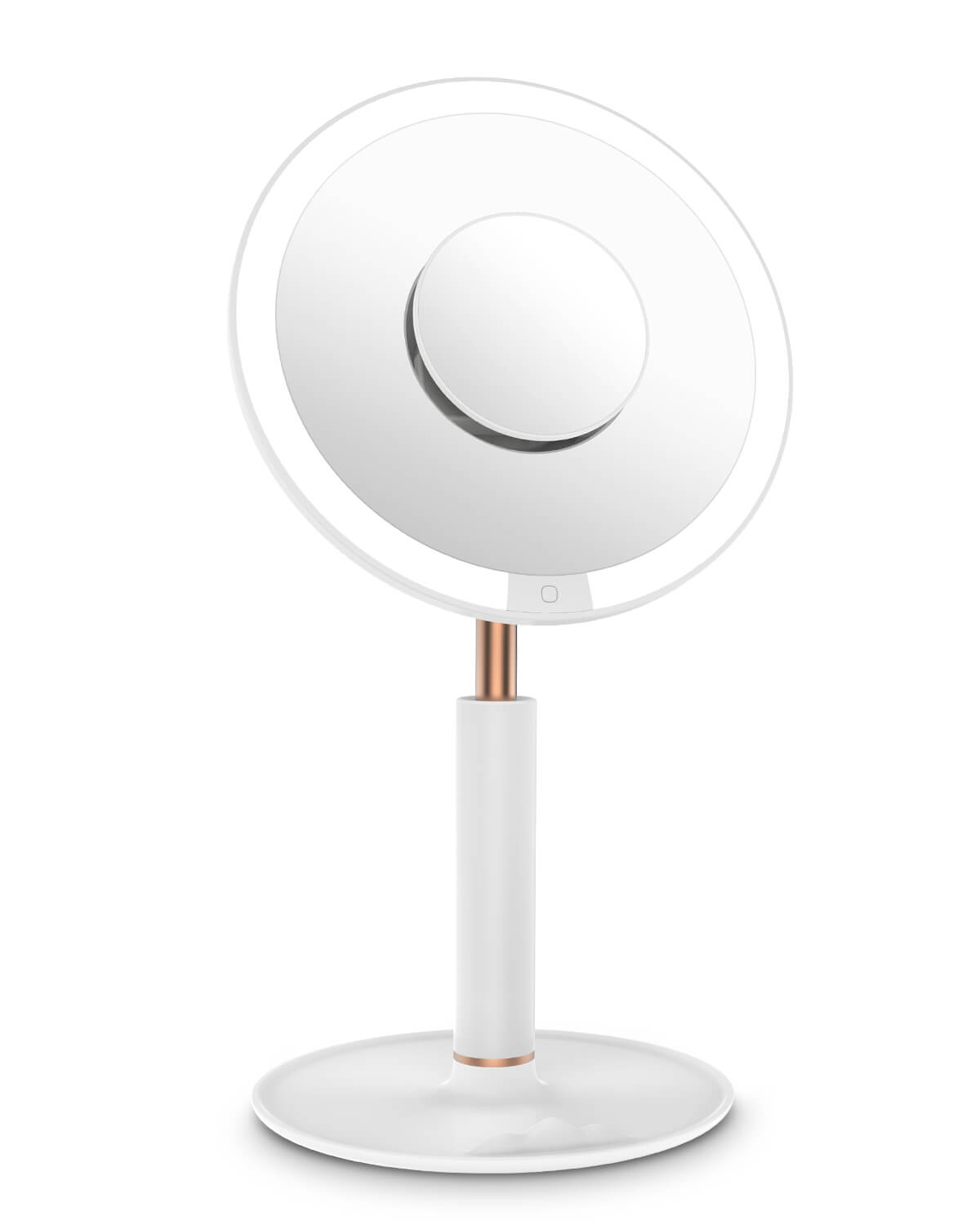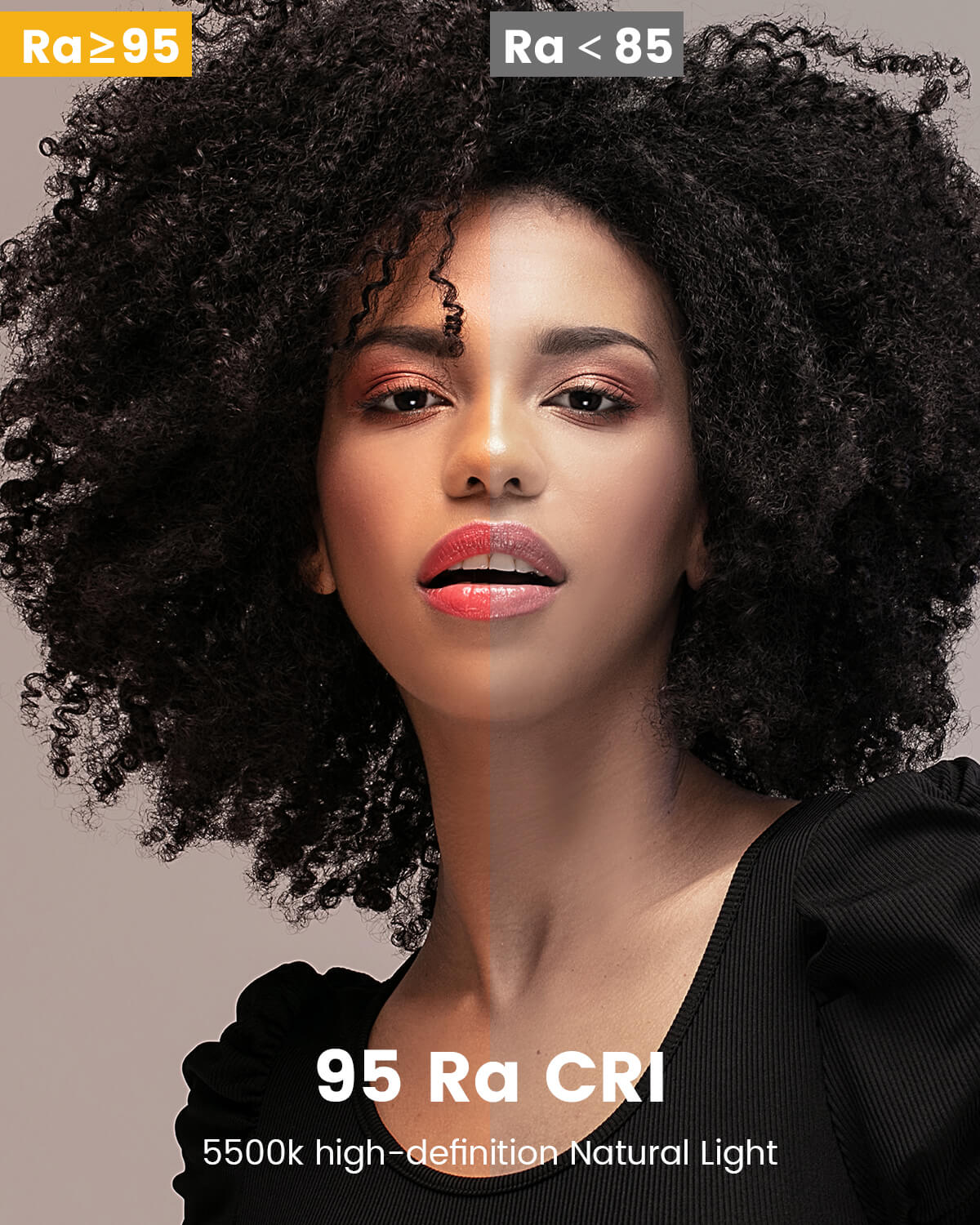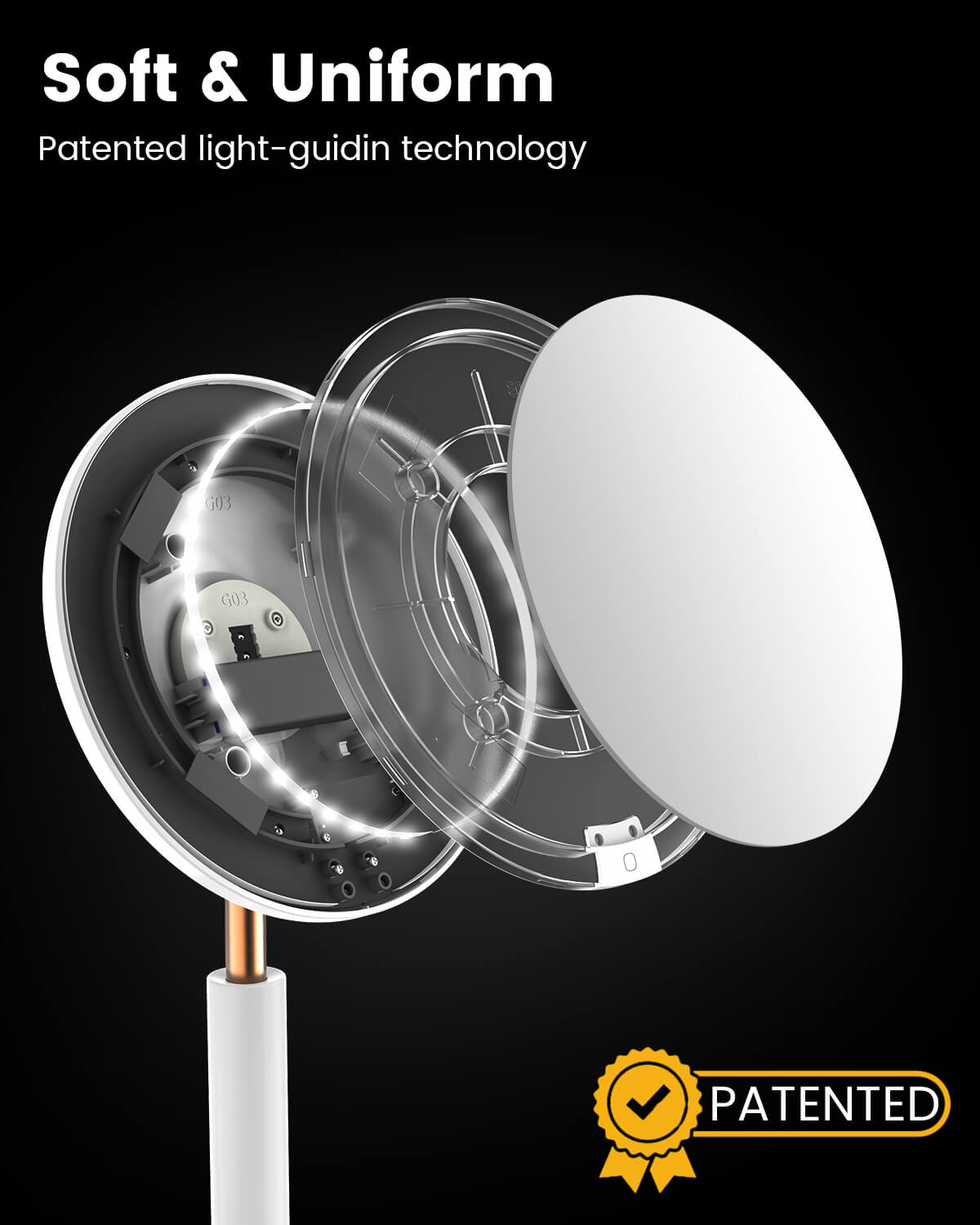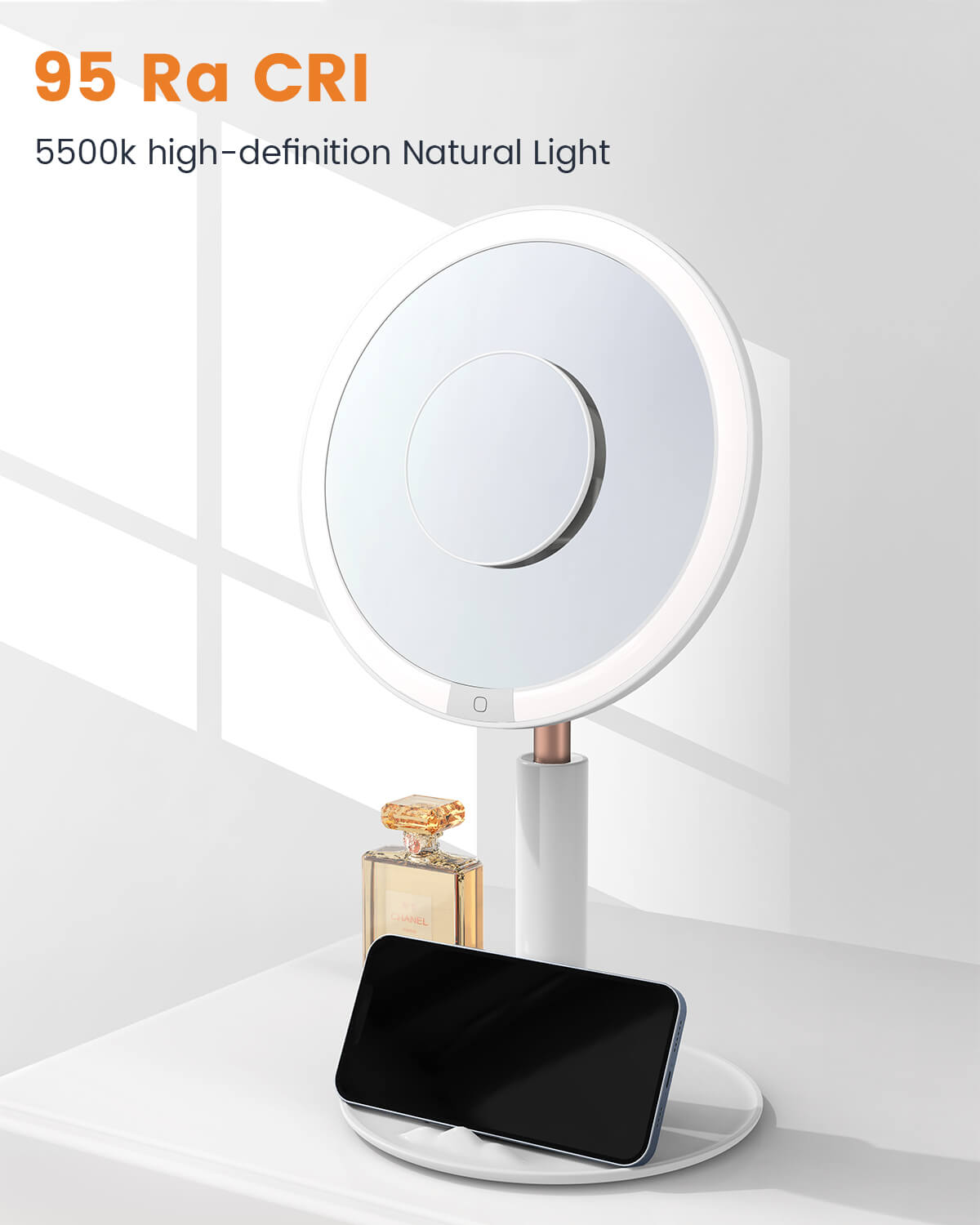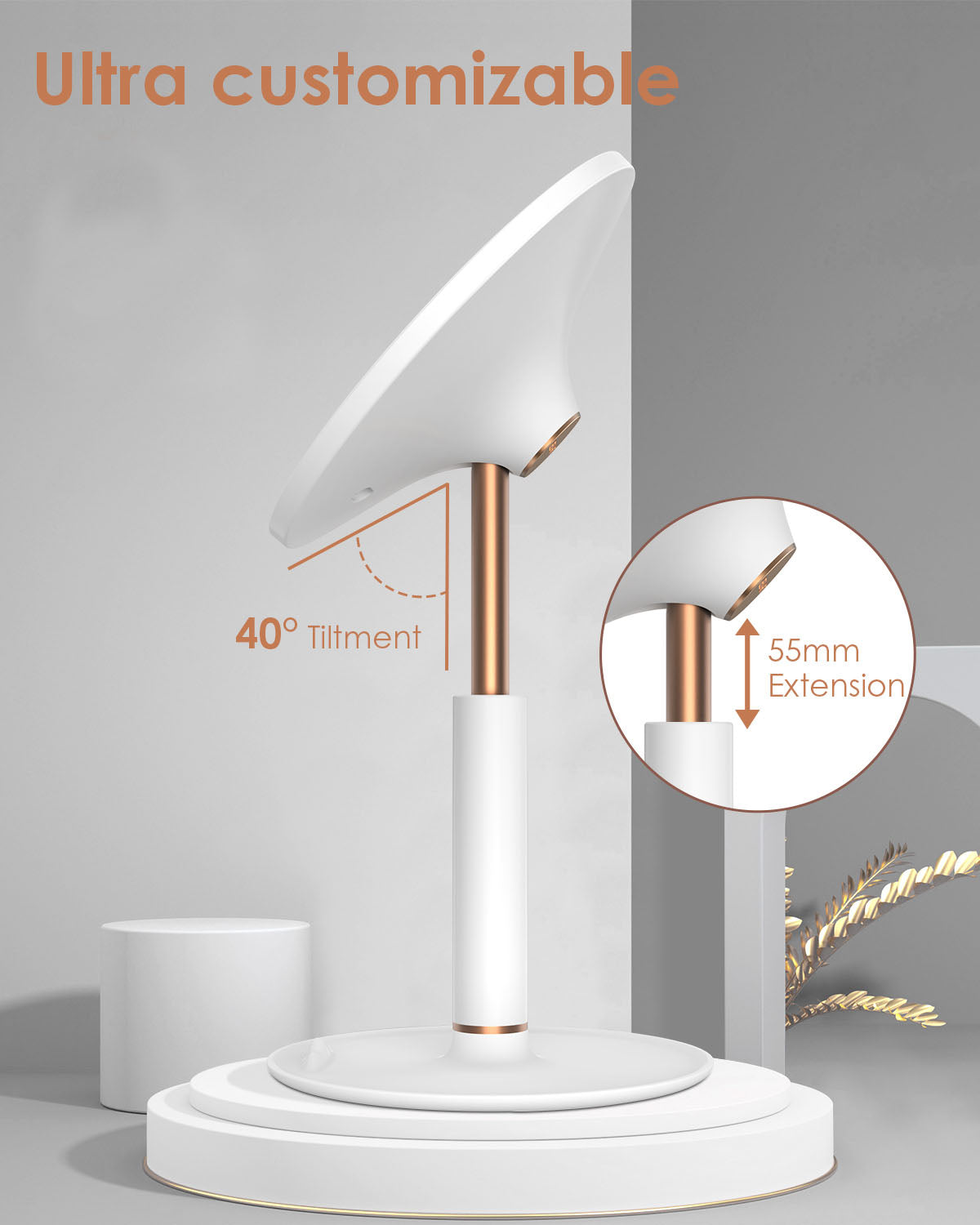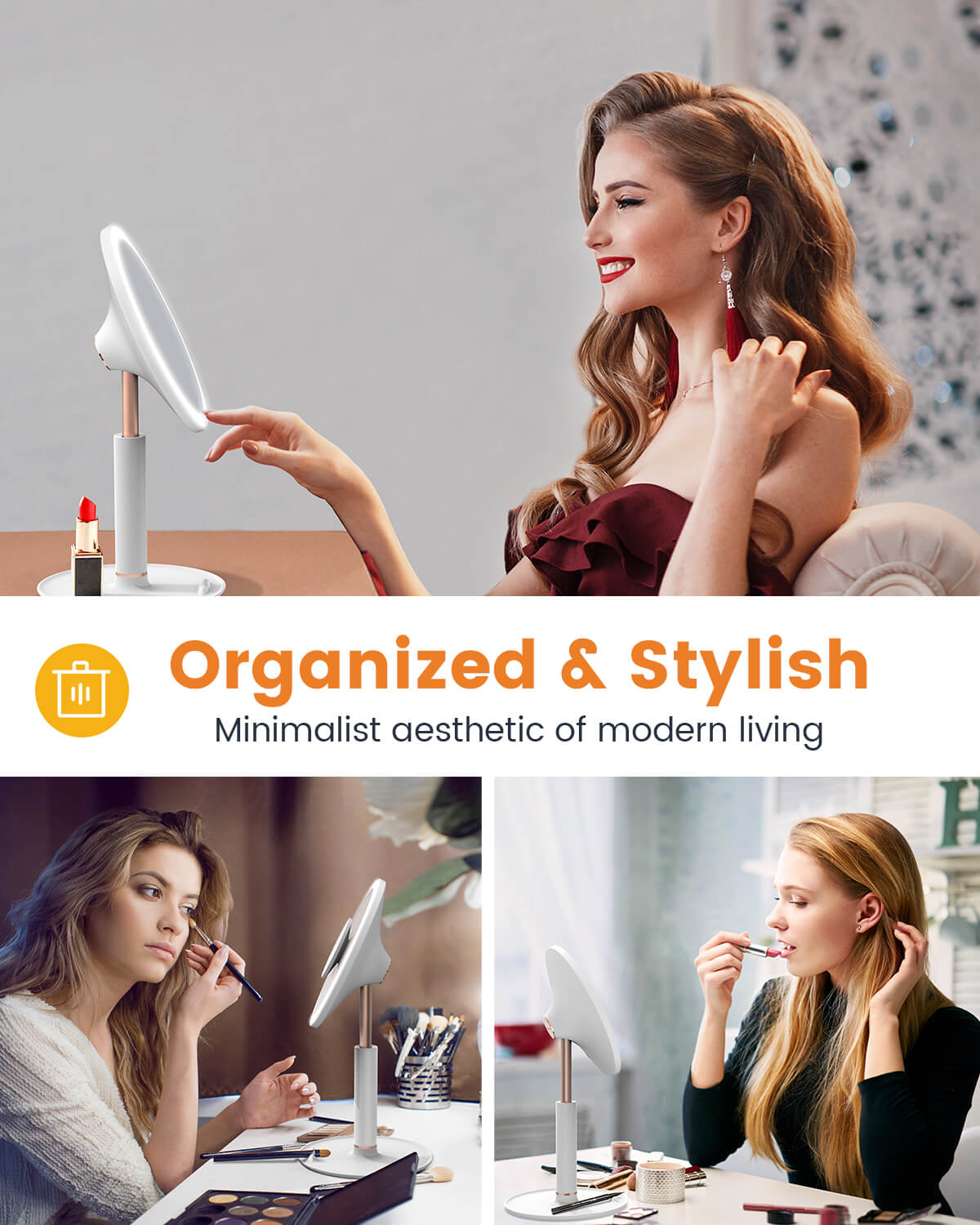 Lighted Makeup Mirror
FREE SHIPPING
Modern white look with a touch of Rose-Gold, perfectly suited to the minimalist aesthetic of modern interiors.
With a built-in battery there is no cord, adding to the clean look. Assembly is intuitive and takes less than a minute.
The vanity mirror and pole attaches to the base with a push and turn to snap into place.
Love it
Nice and sturdy. Great that there no battery involved
Get it!
If youre looking for a cute light up mirror… get this one!!!! I specifically wanted it for close ups for makeup or when im having a pampering type of night. I was looking for a good one with a decent price. This one did not disappoint. Not sure how long the light will last without having to keep it plugged in or keep charging it over and over but so far i really like it!!!
Very nice mirror
This is everything you would hope for judging by the description. At first I thought that the little magnify mirror had to be stuck on so I left it off, I guess I should have read the instructions more carefully because turns out it's magnetic and can pop on and off easily, great feature and the lights are bright and adjustable. Looks very nice.
Simple yet elegant
This matches our washroom sink.
Nordic. Miminalist. Modern. Simple yet elegant.
Love the one button control. One press on and off button which once when pushed continuously, also adjust the brightness. The unit is rechargable. Thank you very much.
The mirror is clear. The smaller mirror, which gives 3x magnification, is attached magnetically in the center. It cannot be placed anywhere else. Something to ponder on before ordering the unit.
The base is stable. The neck can be tilted like what the ad said.
Overall, i like it because it matches our washroom and how it adds elegance to it.
Specifications:

Product Dimensions: 6.9 x 7.95 x 12.6 Inches

95 Ra CRI

42 pcs Natural soft LED

Output: 5V, 1A

Max Power: 5W

Battery capacity: 1200mAh

Port: Type-C

40° Tiltment

50mm Extension
Free Shipping on Orders Over $69.00
How long does delivery take?
3-7 business days.
What countries do you ship to?
Worldwide Shipping.
How will my product be shipped?
Amazon functions as our logistics partner to ship out Lastar products. They will choose the carrier that they think works best for our customers.
How to check the status of my package?
Get your tracking number from order detail or your email send from Lastar.
30-day Return
We want you to feel comfortable and confident when shopping at Lastar, that's why we offer an easy 30-day return & exchange policy.
Professional
Founded 2011. Lastar have been available in the Healthy Lighting industry for 11 years, We believe using natural, sustainable applications of light to enhance your body, mind, and spirit while protecting the environment is the essence of living Life in a Better Light.
National High-tech Enterprise
We obtained 62 international appearance patents and 12 utility model patents and were certified by IS09001/CE/FSS/GS/CCC/RoHS/ERP.
100% Payment Secure
Lastar in-depth cooperation with 3rd-party authorities with certifications (SSL to secure the web environment and Adyen to ensure payment security) to protect you when making purchases.
30-day Money Back Guarantee
Get a full refund when you return your undamaged products within 30 days.
24-month Warranty
We're willing to back it up with an industry leading 24 month warranty.
Lifetime Customer Support
For any questions about the product or your order, please feel free to contact us! Your satisfaction is our final goal!
Gentle on the Eyes
There are 42 evenly distributed LEDs with glare-free to prevent eye strain, long press to adjust brightness, better align with your visual acuity.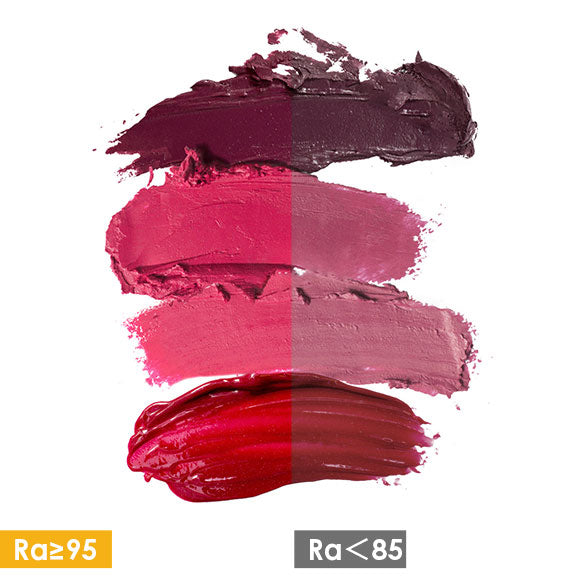 Simulates Natural Light
It is equipped with a special high color rendering LED light with CRI=95. It reproduces 95% of natural light and achieves jewel-quality high color rendering, easier to identify each color. Especially important to choose the right color when you are using eye shadow or lipstick.
Ultra Customizable
40°Tiltment & 50mm free extension pole, making this vanity mirror very flexible, you can braise the mirror to your height and comfort.
Your Beauty X 3
Makes makeup application more easier, reflecting in high definition, no distortion, you don't need to get close to see your face clearly. You will be able to see every detail while applying makeup.
@lindseycarlene
"Here I was thinking my makeup was the issue when it was the lighting all along."
@lilly.lmw
"I specifically wanted it for close ups for makeup or when im having a pampering type of night."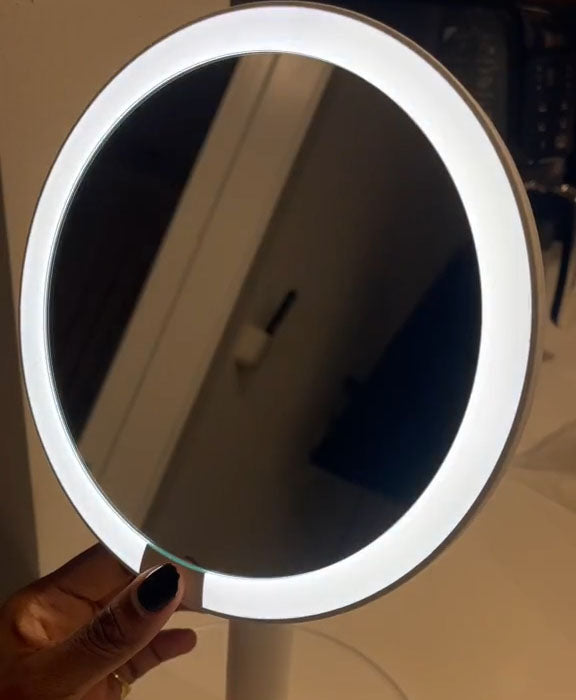 @yourcupofhennyy
"I love that I can adjust the brightness by holding down a single button."
I just love this mirror! Why? The material it is made of is easy to wipe clean, cute magnifying mirror is great for applying mascara,tweezing my eyebrows!
-Anna
Join us
Like us and share the fun, find our exclusive offers and giveaways!
Frequently Asked Questions
Yes, with a built-in USB rechargeable battery there is no cord.
Able to be used up to 7 days with an average use of 25 minutes per day.
Lastar vanity mirror is a regular view magnetic mirror (1X) and it comes with a detachable 3X magnifying magnetic mirror.